CHOREOGRAPHY & TECHNOLOGY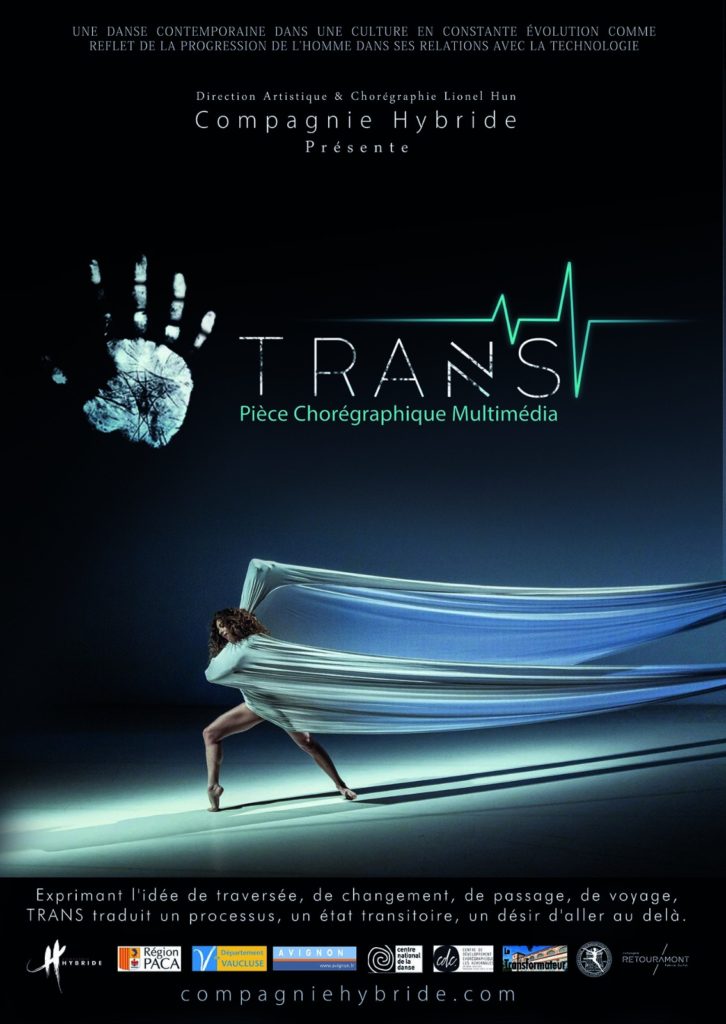 BODY & VIRTUAL REALITY
WHEN BODIES AND SOULS TRANSFORM
Expressing the idea of crossing, changing, passing, traveling, TRANS translates a process, a transitional state, a desire to go beyond. For a moment, time stops to give way to the poetry of images and movement. A pacifist revolution expressed by a transformation of the body and the mind, letting us perceive the human through its path, its footprint, its trace.
PERFORMING & VISUAL ARTS
Production : Compagnie Hybride Direction & Choreography : Lionel Hun
Artists : Céline Caro, Ingrid Le Roch, Mylèna Leclercq, Link Berthomieux, Hamza El Hilali Cherckaoui, Billy Tran, Dimitri Vandal
Motion design : Nicolas Gouelle, Nathanaelle Picot, Johnathan Mascaro
Light Designer : Guillaume Sarrouy Plastician : Simo Aagadi
Costumes : Patrick Bosano, Mylie Maury
Music : Murielle Hun

Production : Compagnie Hybride
Direction & choreography : Lionel Hun
Artists : Judith Arazi, Link Berthomieux, Céline Caro, Belencilla Esteban, Tran Billy, Dimitri Vandal, Anthony Yung
Motion design : Johnathan Mascaro, Nathanaelle Picot, Nicolas Gouelle
Light designer : Guillaume Sarrouy
Light operator : Stéphane Lefebvre
Costumes : Caroline Denquin
Plasticien : Simo Aagadi Music : Dustin O'Halloran
With the support of Conseil Régional Provence-Alpes-Côte d'Azur, Conseil Général de Vaucluse and the city of Avignon. Thankful to Centre National de la Danse, Centre de Développement Chorégraphique – Les Hivernales, the Transformateur – Ballet d'Europe, the Manufacture – Centre Chorégraphique Vendetta Mathea and to Compagnie Retouramont for hosting us in creation residencies.
HUMAN INSIDE